I have special place in my heart for Pie.

I don't know how or why, but she stole my heart.
I couldn't help myself.
They call their foster baby "Pie."
I call her adorable.
Having fostered a baby for just a short time,
I have deep appreciation and admiration for foster moms.
It. Ain't. Easy.
Meet Joy, Pie's foster mama.
She stole my heart too.



There isn't anything easy for this family right now.
Please check out her blog at
Small Town Joy.
Okay, I can't tell you what to do.
But I do pray that my family and friends will be moved to pray and to act.
There are some cute fundraisers going on. I choose to do the puzzle!
For every $5 donation you can purchase a puzzle piece.
Your name can be written on the puzzle piece
and this puzzle will hang on Pie's bedroom wall.
What a sweet reminder of how many people prayed for her
and how God provided for her to come home to her
forever family.

Please do what you can!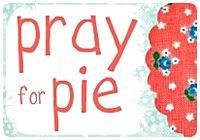 I realize that I don't have a huge audience reading here,
but that doesn't matter to God.
He'll work his miracles with even a mustard seed.
This is my seed.